Honestly speaking, I don't think people visiting Shimla would ever have adventure parks in their bucket list. The reason is the mega parks are available in plains(Delhi, Mumbai, Chennai, Kolkata & Hyderabad) in good numbers. These parks are well advertised and some of them even meet international standards(for instance IMAGICA).
Among the various locations to keep you spellbound in Shimla, there are adventure parks to add flavor to your visit.
These parks are away from the main city and attract a large number of tourists. The majority of the tourists who visit Shimla with their kids (kids who are least interested in what their parents want to see) visit these parks and enjoy rides. All the good parents schedule visits to such parks to make their kids happy.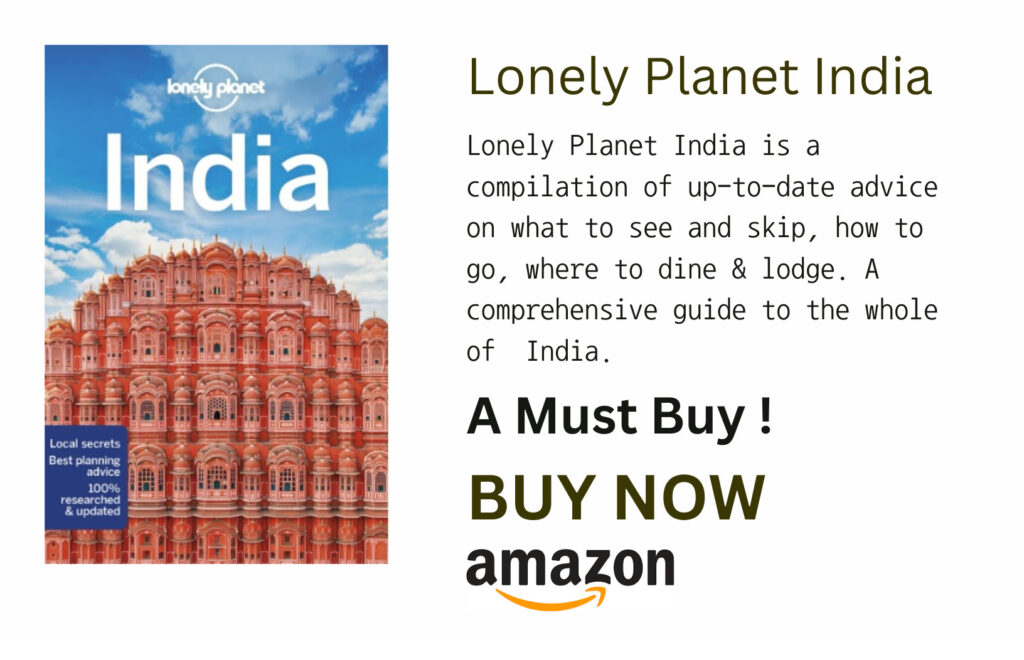 Adventure parks in hills are different from those in other locations because they offer a unique experience that combines thrilling outdoor activities with the natural beauty of mountainous landscapes.
Here are some reasons why adventure parks in hills are different:
Scenic views: Adventure parks in hills offer breathtaking views of the surrounding mountains and valleys. The natural beauty of the hills adds to the overall experience of adventure sports, making it more enjoyable and memorable.
Varied terrain: The terrain in hills is varied and challenging, offering a wide range of adventure sports such as zip-lining, rock climbing, mountain biking, and rappelling. This variety adds to the excitement and challenge of the activities.
Fresh air and natural surroundings: Adventure parks in the hills provide a refreshing break from the pollution and congestion of city life. The fresh air, clean surroundings, and peaceful atmosphere help to rejuvenate the mind and body.
Wildlife sightings: Hills are home to a variety of wildlife, and adventure parks in hills often provide opportunities to spot animals such as deer, birds, and monkeys. This adds an element of thrill and excitement to the overall experience.
Cultural experiences: Many hills are also known for their unique cultural heritage and traditions. Adventure parks in the hills may offer cultural experiences such as visits to local villages, traditional dance performances, and local cuisine.
Overall, adventure parks in the hills offer a unique combination of adventure, natural beauty, and cultural experiences that make them different from other adventure parks.
What options do we have in Shimla? Let's take a look at what Shimla has in store for you.
Nagsons Amusement Park
Nagsons Amusement Park, Hip-Hip Hurray is at Kufri at an altitude of 8500 ft. They offer activities like Burma Bridge, Commando Net, Rock Climbing, Indoor golf, and Bump'em cars for kids especially.
This park is recommended for kids below 10 and you can easily spend 2 hrs in this park. The food court is also available.
The park is close to Hotel Royal Tulip Hotel, Kufri.
Be cautious while deciding the rides that you or your kids are going to take, you might get a little concerned about the safety of some of the rides.
Kufri Adventure Park
To experience light adventure in the mountains, Kufri adventure park is a good choice. The park has a zipline,go-karting, and archery. The park is set up at an altitude of 9000ft. The park offers an unmatched mountain view.
While going through the reviews posted by visitors, I found that most of them found it expensive, yet a Good fun place to spend half a day easily.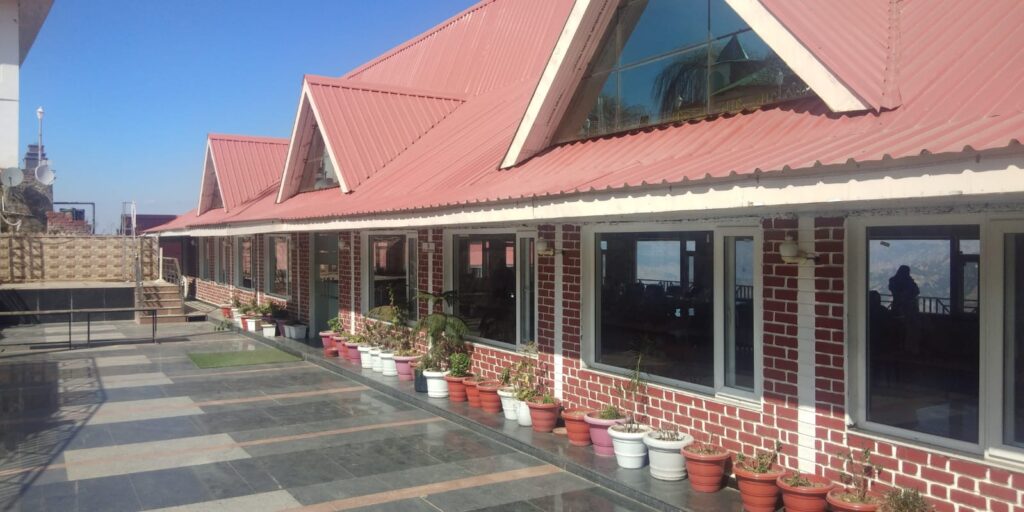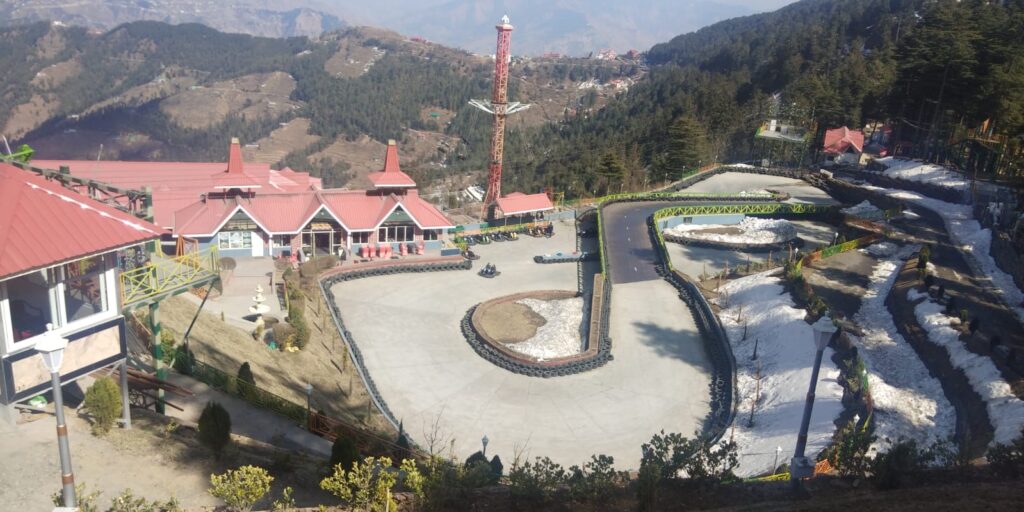 Almost all the travel groups like Veena Word, Kesari Tours bring their groups to this destination. The park has a restaurant having a good capacity to accommodate large groups.
Both these parks are in Kufri which is a small hill station located in the state of Himachal Pradesh in northern India. It is known for its scenic beauty, snow-capped mountains, and adventure sports.
There are several interesting places to visit near Kufri that you may find enjoyable. Here are a few suggestions:
Chail: Chail is a serene hill station located about 20 kilometers from Kufri. It is known for its lush green forests, picturesque landscapes, and a world's highest cricket ground.
Chail is perfect for nature lovers and those seeking peace and tranquility. You can visit Chail Palace, Chail Wildlife Sanctuary, and Kali Ka Tibba while exploring this beautiful hill station.
Narkanda: Narkanda is a popular skiing destination located around 40 kilometers from Kufri. It is known for its apple orchards, dense forests, and panoramic views of the Himalayas.
Narkanda is also famous for its Hatu Peak, which offers breathtaking views of the surrounding snow-capped peaks. You can also indulge in adventure activities like skiing, trekking, and camping in Narkanda.
Fagu: Fagu is a small village located about 6 kilometers from Kufri. It is known for its apple orchards, scenic beauty, and peaceful ambiance. Fagu is a perfect place to unwind and enjoy nature at its best. You can go for nature walks, enjoy picnics, and experience the local culture while visiting Fagu.
Mashobra: Mashobra is another beautiful hill station located around 18 kilometers from Kufri. It is known for its lush green forests, picturesque landscapes, and pleasant weather.
Mashobra is perfect for nature walks, camping, and bird-watching. You can also visit Mahasu Devta Temple and Craignano, a historical Italian-style villa while exploring Mashobra.
These are just a few of the places near Kufri that you can visit to enjoy the natural beauty, adventure activities, and cultural experiences of Himachal Pradesh.
Do check local weather conditions and travel restrictions before planning your trip, and always follow responsible tourism practices.