Hey! We know about two deserts in India: the hot-dry desert of Jaisalmer (Rajasthan) and the cold-dry high altitude mountainous desert of Leh (Ladakh). We hear a lot about Leh-Ladakh and the beauty this region holds amidst the Great Himalayas and Karakoram range.
Ladakh has one of the most beautiful landscapes with a combination of desert, grassland, and mighty Himalayan mountains with the live streams of the Indus river from which INDIA received its GLORIOUS NAME. The umbrella on the top out here is a pristine blue – the color of the sky, that you don't get to see in Metro Cities.
Let me also share a vital piece of information; Ladakh got its name because it has many high-altitude mountain passes. ' La ' means passes and 'Dakh' means many.
In these passes, you always find typical signboards boasting of the altitude at which they are grouted and are always leaning on one side. Blame it on the Border Roads Organisation( BRO) for now. If you happen to see one during your trip, do tell me the reason for the tilted sign boards !!
Leh
Leh is a town, full of life, hustle and bustle and surrounded by mountains. Don't forget to try the food at Alchi Kitchen, the all Women managed kitchen. They serve you the best authentic food with a lovely smile.
Leh town is located in the Trans-Himalaya of Ladakh at an altitude of 3500 m a.s.l. along a northern tributary of the Indus River. Until recently, agricultural land use had been the economic mainstay in the region which due to excessive aridity, entirely depended on glacial meltwater for irrigation.
Due to its sensitive geo-strategic location, Ladakh was inaccessible to foreigners until 1974 ( my birth year). The Indian national government began to lift travel restrictions in order to promote regional economic development and prevent large-scale migration of the Ladakhi population to the lowlands. In a way, the expansion of the tourism sector is the major driver of urbanization in Leh.
Today, Ladakh has developed into a popular travel destination owing to its cultural heritage and scenic landscape. The recent tourism boom began in 2003, with 28,400 arrivals increasing to 79,100 in 2010 and from then on to 323,590 in 2018, and increasing each year, mainly due to a rapid increase in domestic visitors.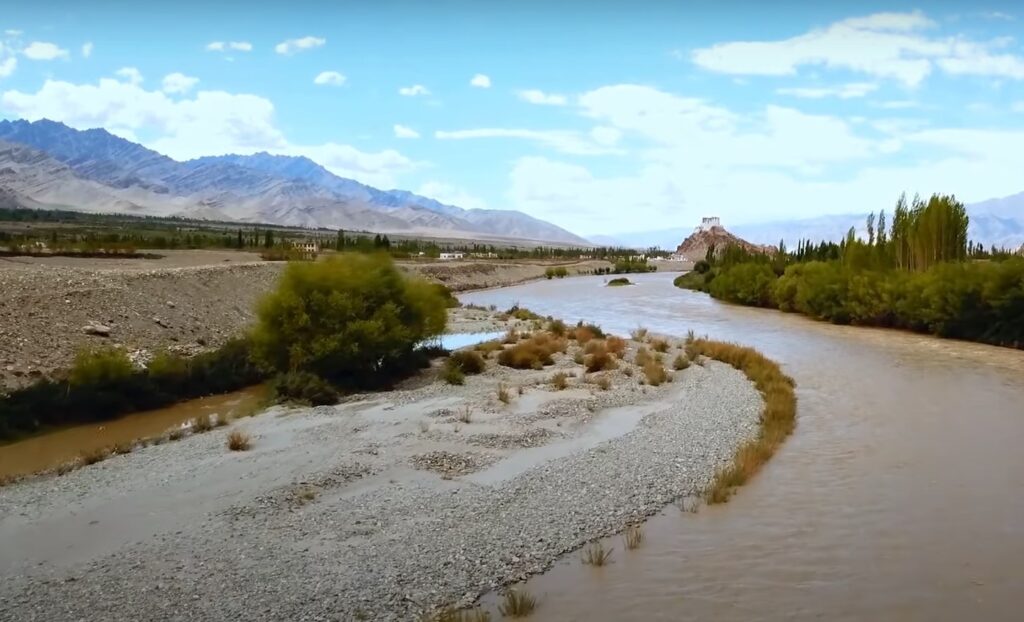 Leh serves as a perfect point of departure for trekking and cultural tours to Ladakh, offering a wide range of tourism infrastructure and services. The number of hotels and guesthouses increased from about 30 in 1974 to approximately 190 in 2005, and further to about 650 in 2015 (Department of Tourism, Leh).
The expanding tourism sector attracts labour migrants, mainly from Nepal and the Indian lowlands. However, most employment opportunities are of seasonal nature, as tourist arrivals are concentrated during the summer.
The increase in stationed military troops in Ladakh following the Indian Independence in 1947 and subsequent military conflicts with Pakistan and China have transformed the region into "a mountain fortress for the Indian nation-state".
Army units like the Ladakh Scouts and paramilitary forces, such as the Indo-Tibetan Border Police were strengthened and expanded; providing employment opportunities for many Ladakhis.
In this geopolitically sensitive setting, Leh is the logistical base for military transport and road infrastructure to the Siachen Glacier, where high-altitude warfare between India and Pakistan has persisted since 1984.
The massive expansion of military settlements and infrastructure with large fenced cantonments are common in the western tributaries of Leh Valley, in the vicinity of the airport and in the Indus Valley.
Passes in Ladakh
Khardungla Pass- Kharsugla Pass(18380 feet) is the 'World's Highest' motorable Pass.
Chagla Pass
Bara Lachaa La Pass
Tanglang La Pass
Fotu La Pass
Zojila Pass
Nubra Valley
Let us first know where is Numbra Valley. Nubra valley is at an altitude of 10,000 ft and is about 155km from Leh towards the north. As you set course from Leh you will be passing through Khardug La pass to reach Khalsar.
From Khalsar, the road gets bifurcated into two, one towards the Syok river and the other towards the Nubra.
Sand Dunes & two humped Camels of Hunder Village
In Nubra Valley, Hundar is a village in the Leh district of Ladakh famous for Sand dunes, and Bactrian camels. It is located in the Nubra tehsil, on the banks of the Shyok River. The Hunder Monastery is located here. Hundar was once the capital of the former Nubra kingdom.
Located over 10,000 ft above sea level, amidst the majestic Nubra Valley is the Hunder Village, popularly known as the home of the two-humped Bactrian camel and boasting of spectacular grey-colored sand dunes. This village is also one place where you can enjoy a variety of terrains altogether, from rolling white sands and a river gushing through to verdant trees as well as snow-clad mountains in the distance.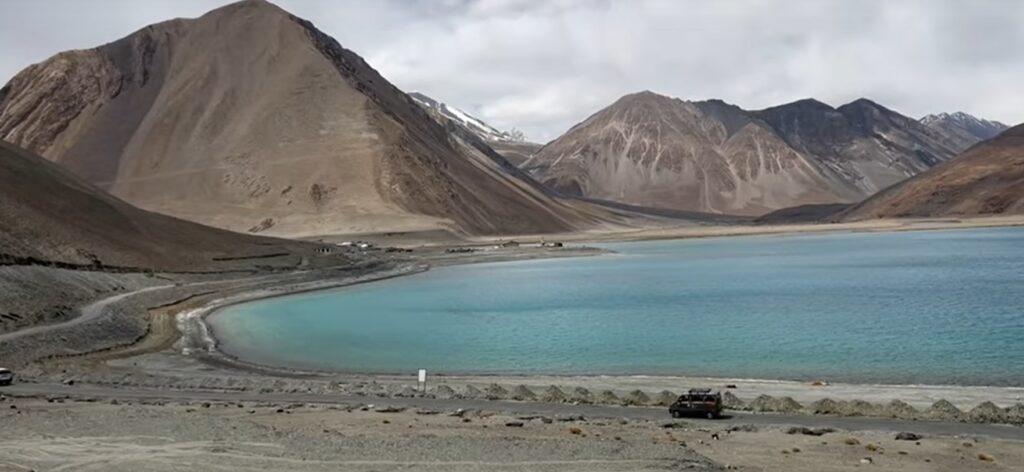 Located 160 kilometres from Leh, Hunder Village is also home to several attractions, including ruins of ancient buildings like the King's Palace, also known as Langchen Khar. You can also find the Gula Fort here, along with the Khadug La Pass. Other popular places of attraction in the Hunder Village are the Yarab Tso Lake, the Samstangling Monastery, Panamik as well as the famous Diskit Monastery.
With the scenic Shyok River gushing through it, the village is also a great place to relax and unwind and offers unmatched views of the Milky Way in a clear night sky.
Doubling up as a high-altitude desert, the Hunder Village is one of the best places to visit in Ladakh and attracts tourists every year. While the area surrounding the village is rather desolate, you can find a vast expanse of verdant greenery, including forests of the medicinal plant of sea-buckthorn, apricots, walnuts, almonds, apples and several other flowers and fruits in the Hunder Village.
Tso Moriri Lake
Tso Moriri is a beautiful lake in Rupshu Valley, flanked by mountains, ensconced at an altitude of 4000 meters above sea level. Talking about the spread of the lake – it's big, approximately 29 kilometers long and 8 kilometers wide. More correctly, 29 Kilometers is the perimeter of the lake.
Tso Moriri attracts a range of wildlife, including migratory birds, marmots and Tibetan wolves sometimes.
Since the lake is very close to the Line of Actual Control, one cannot pitch any tents or construct anything near the banks of the lake and one needs to get an Inner Line Permit to visit Tso Moriri.
There is only one cemented accommodation available around the lake and the facilities like electricity, medical aid, hot running water, western toilets etc. are rare to find.
Caution: While traveling to this destination, make sure that your body is properly acclimatized to high altitude else survival gets difficult.
Tso Moriri remains frozen from January to March and it starts melting from April onwards transforming into the beautiful multi-shades of blue color. May onwards the tourists start flocking around.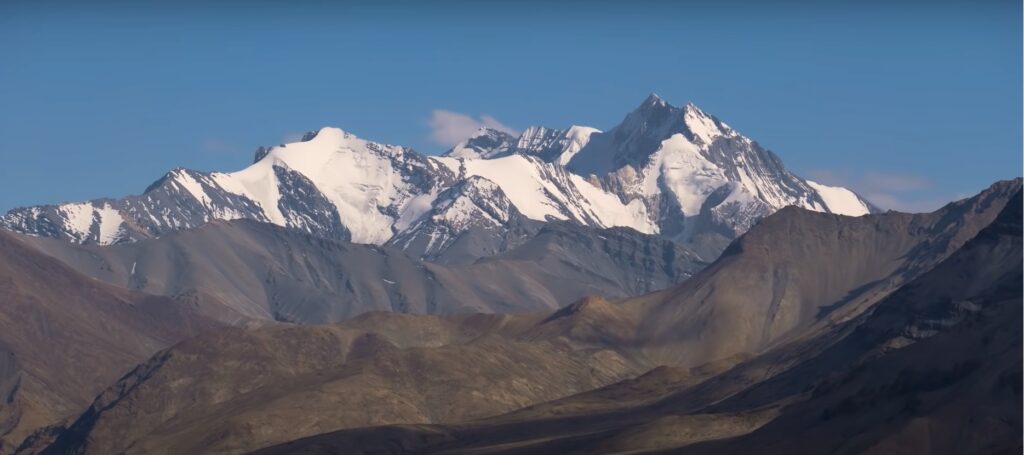 Tips To Visit Leh-Ladakh In Winters
Go prepared in winter
Acute mountain sickness
Acclimatize
Keep Body Hydrated
Keep good sleeping gear (-15 deg C)
Keep a good budget for the trip. Taxis are limited in the region, hence costly.
Do not try bike riding
Carry sufficient cash & do not depend upon ATMs. ATMs do take time to get replenished.
Plan buffer days to cater to flight cancellations due to weather and exigencies.
Try booking the window seat while flying to enjoy the spectacular aerial view.
Keep checking the weather forecast very often.
Buy some oxygen cans & nose spays from a chemist's shop, you might need that.
Places To Stay
WoodyVu Stok House, 3H73+7JM, Stok House, Village Stok, Leh, 194101 Phone: 011 2462 (Recommended by DesiGirlTraveller)
Public Transport
HRTC deploys a bus service starting in the month of June. This bus service has been included in the LIMCA book of world records.
This bus covers a journey of 1026 Kms and during the journey passes through 6 states and UTs. It takes 32 hrs for this bus to cover the distance of 1026 Km.
I'm still working on this article !! Any suggestions are welcome.