Seeing the tunneled mountains and highways carved out of these gigantic rocky mountains, one tends to appreciate the National Highway Authority Of India (NHAI) initiatives to build such infrastructure. All this is for tourism, for tourists & for their comfort.
It's all happening before the point of diversion for Jibhi in Tirthan Valley, which is now a popular tourist destination.
I had spent my childhood in Banjar, on the way to Jibhi. I fell several times from the stairs in the rented quarter where we lived. Thanks to God -it was always repairable damage!
I still remember waving 'bye-bye' to a particular HRTC driver from the house's second floor, leveling so well to establish accessible communication with this driver. His bus had a red color crown on the front top, therefore easily identifiable.
In those days, the Tirthan valley was even more beautiful and untouched. Tourism in this sector was not even considered. I am just making a wild guess, though the Great Himalayan National Park(GHNP) was already set up in 1964.
Tirthan & Sainj Valleys
Tirthan and Sainj are two valleys that bound the Great Himalayan National Park(GHNP). Both valleys are sparsely populated. People from Sainj valley were fortunate enough to find work in the Parvati hydroelectric project from the year 2000 onwards, whereas those from Tirthan valley, still relied on the forest until tourism picked up in this region. The source of sustenance was Guchhi (Morchella Esculenta), a herb in demand. Traders in Delhi buy it for Rs 6,500-7,000 per kilogram.
Unlike the other tourist destinations in Kullu Valley, Tirthan Valley is very virgin, or raw, to be very precise. Away from the hustle & bustle of the crowded Kasol or Manali, flooded with cafes, and live music in most of the cafes – Tirthan Valley is calm and not that lavish amenities-wise.
Tirthan valley is famous for trout fish-angling, campsite experiences, and rustic homestays set in traditional Himachali fashion. The rainbow trouts are abundant in the Tirthan river in Gushiani village.
A word of caution:
Before you indulge in fish-angling and touch that fishing rod, make sure you get the fishing permit from the HP department of fisheries office for a fee of INR 100.
Tirthan valley is home to beautiful villages, for instance, Sarchi, and Jamala. Sarchi village is set on vast flatland, huge houses painted green, blue, and brown covered with slates to have a roof on the top. There are many villages in this beautiful valley that are still not fathomed. But that is what the trekkers are doing – finding new hidden gems!
Imagine the smoke rising up from 'Chulha' through the gaps in the slates on the roof in the morning and birds chirping in a village setting. Smoke rising through the fog, what a morning!
Don't miss to set the bonfire ablaze and take some villagers along to sing folk songs to enjoy your stay most effectively.
Jibhi
Jibhi is a small village in Tirthan Valley that is now hugely popular among tourists. Dotted with homestays and guest houses, it's easy to find accommodation for your long or short stay. Longer – the better!
Opt for rooms with a balcony so that as you open the doors, there is a beautiful landscape, mountains & river to welcome you. I am sure you will develop a feeling of guilt about having paid less to experience all this serenity & solace.
The road to Jibhi might seem narrow if you are driving yourself and not used to hill driving. Suddenly, just before 15 kilometers from Jibhi, a steep elevation to Jibhi might pose a challenge.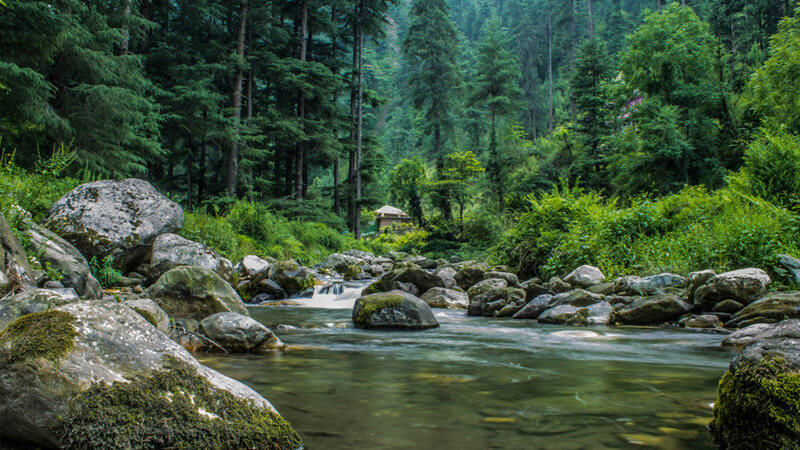 Who doesn't harbor a love for mountain vacations? Jibhi is one place where you could sit in a flowing stream, feet relaxing in the stream, with breakfast spread on a table. How exciting does it sound?
Another attraction in Jibhi is Kulhi Katandi( Mini Thailand), also known as Tirthan valley waterfall.
Well, experiencing such a setting is going to be the next level. Jibhi has secret waterfalls, dense forests, and treks to make your vacations worth it.
Ask your homestay guys & the tour guide to arrange a permit for trout angling. This is another experience to indulge in Jibhi.
Apart from the conventional Volvo ride from Delhi, an option of reaching Jibhi by air is also available using the nearest airport – Bhunter.
Treks in Jibhi
Sarolskar Lake Trek
Raghupur Fort Trek
Tandi Village Trek- This is an alternate route to reach the village of Tandi through the forest, and the trek's difficulty level is medium.
Best homestays in Tirthan valley
The village Tandi is about 6-7 Km from Jibhi. This village is also known as the Tree House Village. Tandi village has several tree houses. The road from Jibhi to Tandi is narrow, and it is advisable to travel on this road during daylight. Especially during winter, it's recommended to use a 4X4 vehicle.
Here is the list of homestays and tree houses near Jibhi-
Mudhouse Hostel
Heritage House
Hotel Cedar View
Nirvana, Tandi , Contact Number: 6230262606
Jhony's Tree House, Contact Number: 8219249560,7624850149
Whispering Pines Cottages, Contact Number: 7018328687
Twin Towers Of Raila
What catches your attention is the watch tower-like structures on the hills. It is a village of Raila, which is a 30km drive from Sangrah (roughly 1.5h). These two watch towers stand tall on the top of the village, still intact.
The local residents said there were two more towers, which could not withstand the past earthquake's tremors and got dashed to the ground. According to them, the existing two have also lost the top stories.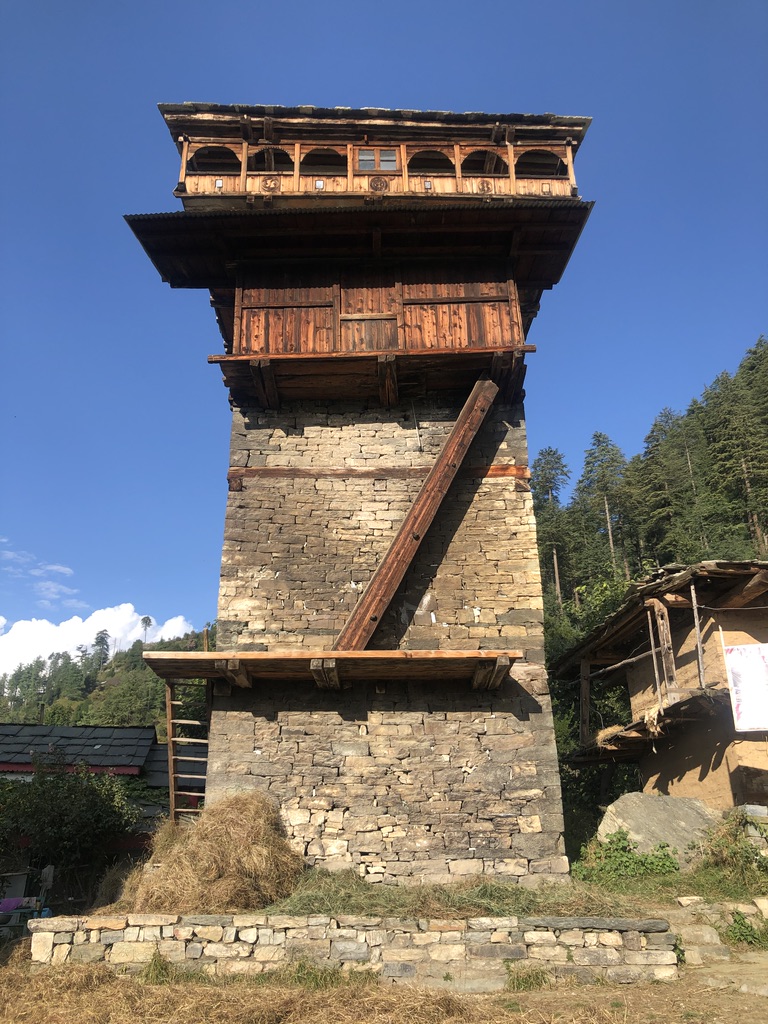 These two towers are engineering marvels for the reason that constructing something of this scale on hills is not an easy job.
A place to stay in Raila
The RabbitHouse Homestay. Here is the link –
https://goo.gl/maps/aXh1govJZH8EmMLH6
Sangrah
To reach Sangrah, take a diversion from the Aut tunnel towards the Great Himalayan National Park(GHNP). Sangrah is 30 Km from this diversion point.
This diversion point is the gateway to popular tourist destinations like Jibhi, Jalori Jot, Sojha, Daliraya Kothi, Sainj, and Tirthan Valley.
Sainj Valley is dotted with small villages, and the commercial hotspot is the village of Sainj. Sainj is famous for its handicrafts, popular being the Kullu Shawl & cap.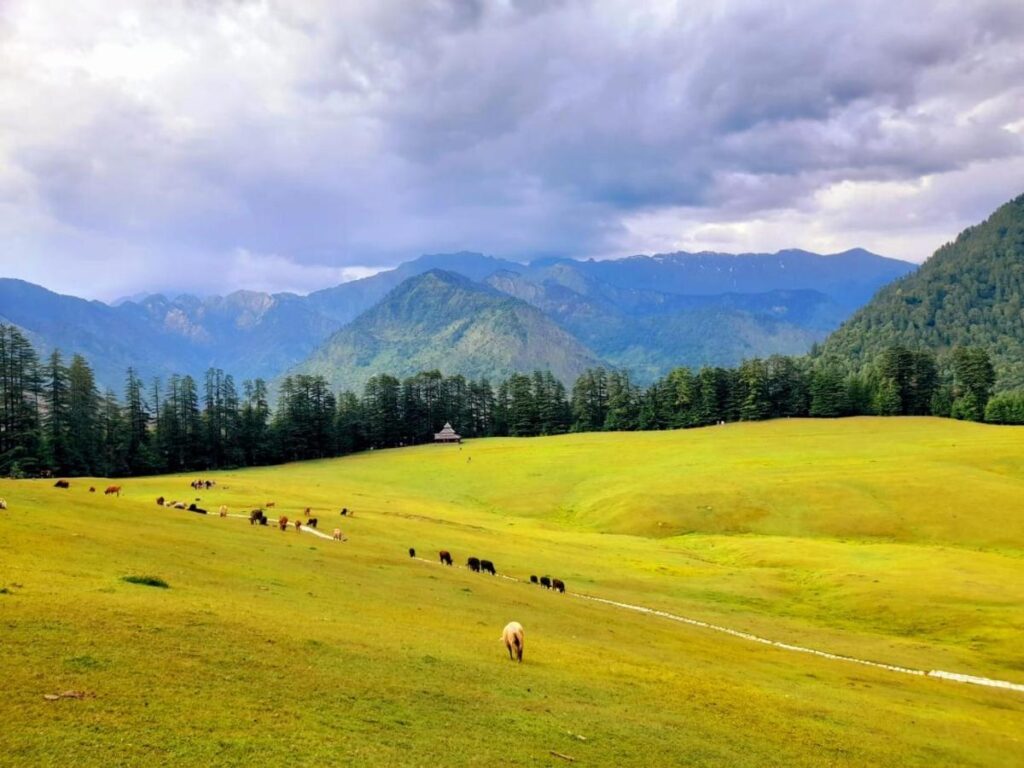 Sangrah is a holy place and has a connection with the Mahabharat era when the Pandavas were in exile. Shangarh has huge meadows which have a huge spread. Shangrah Meadows is a vast grassland with a backdrop of snow-capped mountains. The Shangchul Mahadev temple on one side of the meadows is a great piece of vernacular architecture. You must catch hold of some localities to experience the culture of village Sangrah.
The village committee has set up rules to keep the meadows clean. They say Shangchul Mahadev has dictated these rules.
No doubt the meadow has a spectacular picture-perfect view of the mountains of pin Parvati pass. The present village, Sangrah is set around the meadow.
While at Sangrah, do plan to visit Barshangarh Waterfall, which is 3km from Sangrah. Snow white water falling off the cliff looks magnificent.
A place to stay in Sangrah
THE HOUSE OF OWN STORIES
https://www.google.com/travel/hotels/s/CCMwAQ3TJC8vt81w5
Best time to visit Tirthan & Sainj valleys
Never ever opt for monsoon season. The summer season is the best time to enjoy Tirthan & Sainj valleys. The summer weather remains pleasant, and during this season, one can also opt for trekking expeditions.
Winters also could be chosen, but for some, the winters could prove to be much harsher to withstand.
How to reach Tirthan & Sainj Valleys
By Air
Bhunter Airport (also known as Kullu Manali Airport), located at a distance of 50Km, is the nearest airport. Flight can be boarded from Delhi or Chandigarh. On arrival at the Bhunter airport, hire a taxi from the airport to your destination.
By Rail
This is a little difficult to pinpoint. The rail heads available are Ambala, Kalka, Kiratapur and Shimla. The choice of these railheads will depend upon your travel itinerary.
By Road
Interstate buses are available from Delhi and Chandigarh to Manali. The diversion to Tirthan Valley is from the Aut tunnel. Aut is a small village on the Delhi-Manali highway.
Suggested Read: Best Airports In Himachal Pradesh