It is good to resolve all your doubts and then set up a course for Shimla. Or any hill station for that matter. This article is an attempt to answer all your questions to make your trip is enjoyable & memorable.
Please use our comment section to post your questions and we will make all attempts to answer as quickly as possible.
Here it goes!
1. Are there any hostels in Shimla?
Your budget-friendly trip is possible if you don't mind staying in hostels. The reviews don't recommend hostels for a family stay. Here is the list –
i) Thira Hostel
ii) Idyllic Hostel
iii) YMCA Hostel
iv) Abuzz OC
v) Aapo Aap Homestay
2. Are Cars allowed on Mall Road Shimla?
The cars are not allowed on Mall Road, Shimla. There are a number of entry points to Mall Road in Shimla. Your cabs can drive you up to a particular point beyond which you will have to walk to reach Mall Road.
Entry point involving straight walk-
From Indira Gandhi Medical College–Private vehicles are allowed beyond IGMC up to Manchanda Opticals. From this point onwards there is a level walk up to Ridge/Mall Road. You will pass through the famous Lakkar Bazaar.
Entry from AG Office- Cabs can reach up to AG Office or Railway Board Building. Further, you will have to walk towards Scandal Point which passes through the Indian Coffee House.
Entry from DC Office- This route I find the best & shortest. But this is a very busy road and demands a quick alight.
Entry point involving climb-
Entry from Lakkar Bazar Bus Stand– Get down just before Lakkar Bazar Bus Stand. Follow an upclimb via the famous Tibetan Market to reach Scandal Point. This route is not recommended when there are senior citizens along.
Entry from Cart Road via Bombay Bites Veg Restaurant– This is the route for almost 30-40% of the tourists. Usually, the cabs are parked in the Parking & Commercial Complex which is just in front. Take the stairs to reach Mall Road via Bombay Bites Restaurant, Metropol (Vidhayk Sadan).
Entry from Cart Road Via lift
If entry from Cart Road via Bombay Bites Restaurant covers 30-40%, the balance 60-70% of tourists reach Mall Road using HPTDC Lift. This is very convenient when there are senior citizens along.
Please note that there are fixed timings for the operation of the lift. During the peak tourist season, they do extend the closing time. Better to check the closing time to avoid unnecessary inconvenience.
3. How is Johnnie's Wax Museum in Shimla?
Johnnie's Wax Museum in Shimla was the first wax museum in Himachal Pradesh. The museum had about twenty life-sized statues. The museum is closed now and has been replaced by a Red Tape showroom.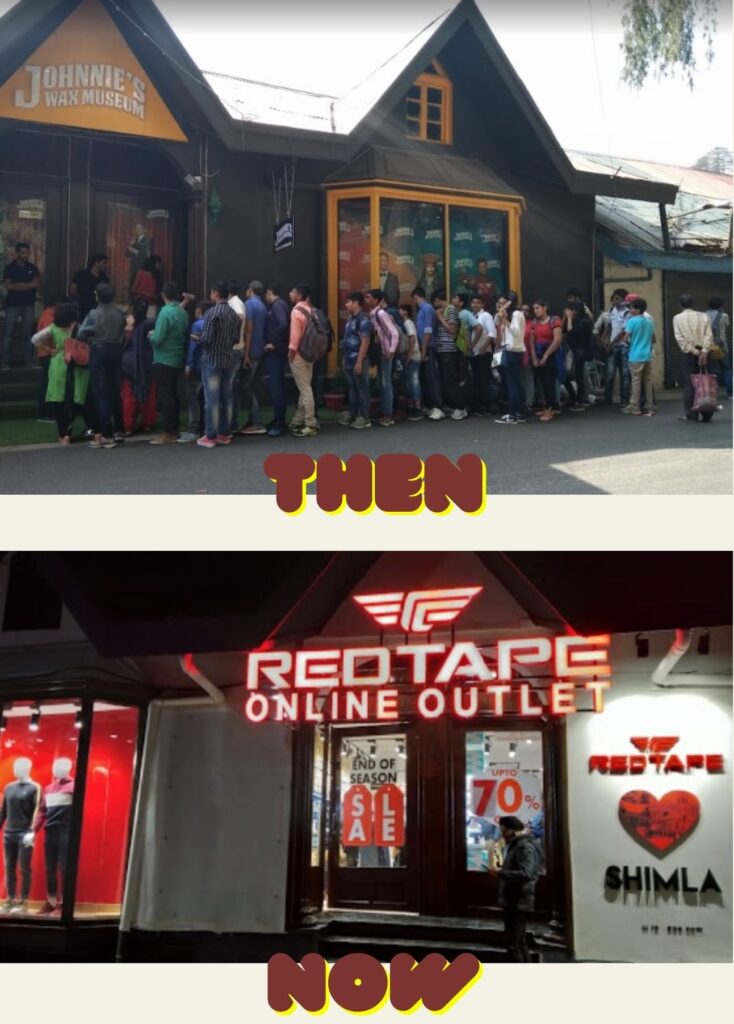 Visitors who had not visited Madame Tussauds wax museum always enjoyed visiting Johnnie's Wax Museum and clicking photographs with the wax statues of Messi, Harry Potter and Gandhi to name a few.
4. Where is Sagar Ratna Restaurant Located in Shimla?
Sagar Ratana Restuarant was located above Syndicate Bank(now Canara Bank). Sagar Ratana was serving the localites & tourists looking for vegetarian food, mainly South Indian cuisine.
The restaurant was closed in the year 2018. Presently, Sagar Ratana does not exist in Shimla.
5. Where is Kamats Restaurant Located in Shimla?
Kamats Restaurant was operating until 2018 on the same premises where Sagar Ratna existed. Kamats Restaurant commenced operations in Feb 2019. The Kamats Restaurant closed its operations in Jul 2022 post-Covid.
The franchisee operating Kamats Restuarant in Shimla has now commenced operations as Bombay Bites Restaurant, Near Lift Parking on Cart Road.
6. Can I find snow in Shimla in the month of April?
There is a remote possibility of witnessing snow in the month of April. However, we see snow settlements in some shady patches in Kufri, Narkanda.
7. What are the cab charges for local sightseeing in Shimla?
Cab charges for local sightseeing range from 800-2000 Rs depending upon the number of places you want to cover. The cab owners or agents are available on Mall Road or Ridge to get the day trip deals.
You can also book cabs through Taxi Unions.
8. Where do we park our car if we plan a day's visit to Shimla?
Planning a day's visit to Shimla means you don't require accommodation to stay and you don't have a space to park your car. You can make use of the commercial parking lots to park your car. Here is the list of parking lots available in Shimla-
Sl No
Location
Contact Person
Capacity
Distance From
Tuti Kandi Bye
Pass
1
Tuti Kandi Bye Pass
Sh Suresh Sharma
(9816027328)
Sh BL Khachi
(9418670849)
700
0 Km
2
Railway Parking
Sh Gagan
(9857666786)
120
3 Km
3
Lift
Shimla Tolls Pvt Ltd
(8351088279)
590
4 km
4
MC Parking Near
Metropol
Sh Devender
(9625072813)
Sh Prem Singh
(9418109421)
Sh Besaria
(8679909407)
190
4 Km
5
HPDTC Parking Near HHH
Sh Vikram
(8627885503)
Sh Pradeep
(7018938545)
120
4 Km
6
Chotta Shimla
Chotta Shimla Project Pvt Ltd
(787167579)
250
7 Km
7
Sanjauli
Sh ID Sharma
(9816030838)
250
7 Km Via LakkarBazaar
10 Km viaChotta Shimla
8
Snow View Parking
Sh Pawan
(9218600015)
43
4 Km
9
New ISBT Parking
Sh Ashok
(9805091612)
100
2.5 Km
Suggested Read: 20 Camping Essentials For An Ultimate Camping
9. Which river flows in Shimla?
The river Sutlej flows near Shimla and is one of the major rivers. One can enjoy water activities like rafting, and boating at Tattapani, about 40km from Shimla. Tattapani is also the place for hot water springs.
Suggested Read:Hotel Hot Springs & Heath Care At Nature's Jacuzzi , Tattappani
10. What are the outdoor activities in Shimla?
The following outdoor activities are available at the following places in and around Shimla-
Annandale Ground
Green Valley
Jakhoo Hill
Adventure Parks in Kufri
Reserve Forest Sanctuary
11. What are the top attractions to visit in Shimla?
Jakhoo Temple
The Mall Road
Indian Institute Of Advanced Studies
Kufri Hills
12. Where is Hotel Taj situated in Shimla?
Taj Resort & Spa is a five-star property in a village Theog away from Shimla on Shimla-Narkanda Road. Theog is about 30km (59min) from Shimla city center. On the way, you will pass through Kufri, Fagu which are the famous destinations for enjoying the snow.
13. How to reach Mall Road when HPTDC Lift is closed?
There are specific timings for the operation of the HPTDC lift that takes you to Mall Road from Cart Road. Another way to reach Mall Road is to follow the path via Bombay Bites Restaurant, Metropol (Vidhyak Sadan), and RBL Bank.
Also, read FAQ No 2.