Table of Contents
Preface
In this article, we are answering the question -Which place is better- Kullu or Manali?
When it comes to exploring the beautiful state of Himachal Pradesh in India, the first name that comes to your mind is Shimla and Kullu Manali. Most people take Kullu Manali as the name of one town. The fact is, it's not the same.
Kullu and Manali are two different tourist places. Nestled in the stunning Kullu Valley, these two places offer breathtaking views of the Himalayan mountains, serene rivers, and a plethora of adventure activities.
Slowly Leh Ladakh is gaining popularity, thanks to Attal Tunnel Project. We will talk about Leh Ladakh some other time. This blog already has some articles on Leh Ladakh.
Kullu Manali: Which place is better- Kullu or Manali?
Let's explore the charms and attractions of both destinations to find out an answer.
One of the vital points is that Kullu is a district headquarters and was declared a separate district in 1966. Kullu district has 6 tehsils namely, Kullu, Bhunter, Manali, Banjar, Anni, Nirmand, and  3 sub-tehsils Sainj, Nither & Jari. 
Did you notice Manali figuring as tehsil? It is a little difficult to digest, right?
Kullu, often referred to as the "Valley of Gods," is renowned for its picturesque landscapes, apple orchards, and ancient temples. The town itself exudes a tranquil ambiance and provides a perfect getaway for those seeking solace in nature.
The Beas River flows through Kullu, enhancing its scenic beauty and offering opportunities for fishing and river rafting.
On the other hand, Manali is a bustling hill station located about 40 kilometers north of Kullu on the banks of the river Beas. Manali offers a blend of natural beauty and adventure activities.
Manali is surrounded by snow-capped mountains, lush green valleys, and cascading waterfalls. The famous Rohtang Pass, located nearby, is a gateway to the enchanting Lahaul and Spiti valleys.
Manali is a hub for adventure enthusiasts. From skiing and snowboarding in the winters to paragliding and river rafting in the summers, there is no shortage of thrilling activities for adrenaline junkies.
Places To Visit Around Manali
The Solang Valley, located just 14 kilometers from Manali, is a popular destination for skiing and zorbing. Moreover, the quaint villages and scenic treks around Manali, such as the Brighu Lake trek and Hampta Pass trek, attract nature lovers and avid hikers.
Places to Visit Around Kullu
One of the major attractions in Kullu is the Raghunath Temple, dedicated to Lord Rama. The temple holds great religious significance and is frequented by devotees throughout the year.
Another notable temple is the Bijli Mahadev Temple, situated atop a hill and offering panoramic views of the valley.
To Read more about Bijli Mahadev and temples in Manali you must read our article –
Top Temples To Complete Your Pilgrimage Trip In Himachal. Click the link given below.
Kullu also hosts the internationally renowned Kullu Dussehra festival, attracting thousands of visitors with its colorful processions and cultural performances.
Apart from the temples, visiting places like Kasol, Manikaran, Tosh, and Malana is easy from Kullu.
Accommodation & Amenities
Regarding accommodation and amenities, both Kullu and Manali offer a wide range of options to suit every budget. From luxury resorts and hotels to cozy guesthouses and homestays, visitors can find comfortable lodging according to their preferences.
Kullu is a good choice for a stay if you are looking for budget accommodation. Positioning yourself at Kullu might work well because tourists do want to cover Manali, and Rohtang on one hand and Kasol, Manikarna, and Malana on the other.
Kullu doesn't have classy hotels and cafes like Manali. But yes after a whole day's adventure momentarily you can call Kullu your home to spend a peaceful night.
Accessibility
In terms of accessibility, both Manali & Kullu are well connected by road and have a domestic airport, Bhuntar Airport, which is just an hour's drive away.
However, both Kullu and Manali can be easily reached by road from major cities in North India.
The huge ground of Dhalpur which serves as the venue for the internationally renowned Kullu Dussehra festival, is a rare vast land flanked by mountains.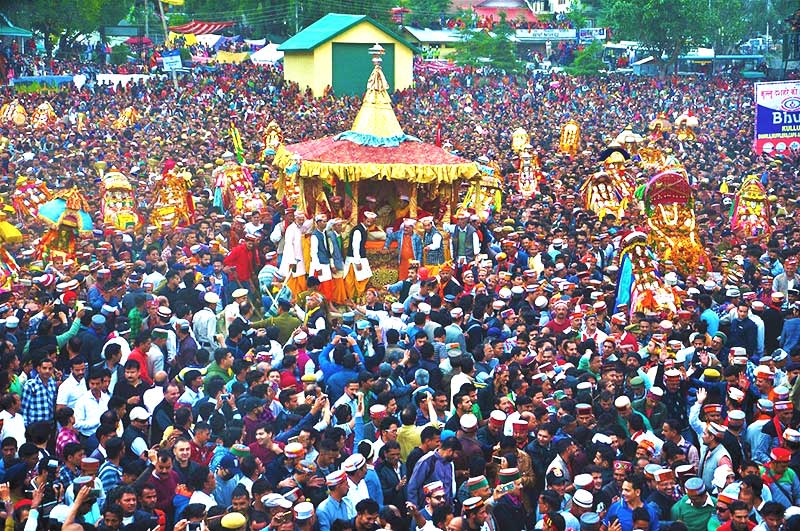 Conclusion
In conclusion, choosing between Kullu and Manali ultimately depends on one's preferences and the purpose of the visit.
Bijli Mahadev Shrine, Raghunathji Temple,Vaishno Devi Temple,Camping Site: Katrain, Naggar,Kasol, Manikaran,Malana,Bajuara,Banjar, Manali, Solnag Valley,Rahla Water Falls, Rohtang Pass, Jagatsukhare the places to Visit in Kullu Manali
Kullu offers a serene and spiritual experience, with its ancient temples and tranquil landscapes. On the other hand, Manali provides a mix of adventure, natural beauty, and vibrant tourist attractions.
Whether you seek a peaceful retreat or an action-packed holiday, both Kullu and Manali have something unique to offer.
So, pack your bags, embrace the mountains, and get ready for an unforgettable experience in the lap of nature, no matter which destination you choose.
I would personally prefer to stay in Manali. If I don't get accommodation in Manali – I will not modify my plans because I have Kullu as an option. It won't de-rate the adventure level of my trip.
Most of the people who contact me for planning their trip, I advise them to stay in Bhunter & Kullu.
Remember, it's not Kullu Manali; you have to choose- Kullu or Manali.
I hope it's all clear?
We suggest you visit www.thewildcone.com for more information and an old collection of photographs of the Kullu Manali region. They also undertake camping troops, in case you are willing to.
FAQ's
Which is better, Kullu or Manali?
It depends on your preferences. Kullu is known for its picturesque valley and religious sites, while Manali offers a range of adventure activities and scenic beauty.
Which place has better weather, Kullu or Manali?
Both Kullu and Manali have pleasant weather, but Manali tends to be cooler due to its higher altitude.
Which place has more tourist attractions, Kullu or Manali?
Manali has more tourist attractions compared to Kullu. It offers activities like skiing, paragliding, and visits to famous landmarks such as Hadimba Temple and Rohtang Pass.
Which place is more suitable for adventure enthusiasts, Kullu or Manali?
Manali is more suitable for adventure enthusiasts. It provides a wide range of adventure sports like river rafting, trekking, and mountaineering.
Which place offers better accommodation options, Kullu or Manali?
Both Kullu and Manali offer a variety of accommodation options, including budget hotels, guesthouses, and luxury resorts. Manali, being more popular among tourists, may have a wider range of choices.
Which place is more crowded, Kullu or Manali?
Manali tends to be more crowded compared to Kullu, especially during peak tourist seasons.
Which place is more suitable for nature lovers, Kullu or Manali?
Both Kullu and Manali are suitable for nature lovers, as they are surrounded by beautiful landscapes and offer scenic views. However, Kullu's serene valley may be more appealing to some nature enthusiasts.
Which place is more easily accessible, Kullu or Manali?
Manali is more easily accessible compared to Kullu. It has better connectivity through road and air transportation, including direct bus services and a nearby airport at Bhuntar.
Can I visit both Kullu and Manali during the same trip?
Yes, you can easily visit both Kullu and Manali during the same trip as they are located in close proximity to each other. It takes about an hour to travel between the two by road.
Is it possible to do a day trip from Kullu to Manali or vice versa?
Yes, it is possible to do a day trip from Kullu to Manali or vice versa. The distance between the two is relatively short, allowing for a convenient day excursion.