All of us know about Dhauladhar and Dharamshala. I had always imagined this mighty range of Himalayas guarding India naturally. We had a chapter in the Hindi textbook about Dhauladhar, I am talking about the Himachal Board of School Education. I don't remember which class!
It was left at that! Never could explore this mighty range.
Reading about places and not being able to explore is quite usual. Indian kids would always go with their parents …. to their relative's family functions, birthdays and this is supposed to be unwinding & relaxing. It was the same for me, no different!
I was filled with joy when I saw Dhauladhar in 2019. It was right next to me standing tall & defiant.
Dharamshala is built brick by brick on the foothills of this mighty range and then follows the vast flatland(not that flat), freshwater streams, and flowers all around to ornate this beautiful place spreading freshness all around.
I am sure you would love to go to such a place.
The tour package I am proposing has a perfect blend to enjoy the natural beauty in Dharmashala & Manali, adding eternal peace and sowing seeds of spiritualism for the rest of your life here at the home of the Dalai Lama and mixing a little adventure in Bir Billing.
Sounds interesting, right?
DAY 1 || Delhi to Dharamshala
The journey from Delhi to Dharamshala can be completed using Volvo Buses, I mean by road or by Flight because Dharamshala is connected by Air too. The nearest airport is Kangra Airport. It goes without saying that the option of traveling by air is exorbitant. Those who have accumulated a good number of earned leaves must opt for road travel. Let the air travel be for those who just want to touch & go.
Suggested Read: Best Airports in Himachal
Let me quote the words of appreciation written about Dhramashala which would validate your decision to choose this stunning place-
"Dharmashala is an amalgamation of Rajput valour, colonial glory, and the elusive Tibetan enigma that we see today. Dharamshala is a mysterious chapter of history in the hills of Himachal" – Indulgence by Syantani
Things to do in Dharamshala : Kangra Fort | St John Church | Trek to Triund | Visit Bhagsu Falls | Dharmkot | Dal Lake | Visit HPCA International Cricket Stadium | Popular Monasteries & Temples like Norbulingka Institute
Kangra Fort was built by Katoch Dynasty and has stood the test of time.
St. John's Church, Dharamshala is dedicated to Lord Elgin, who happened to be one of the celebrated Viceroys of India. He is buried on Church grounds in 1863. Built in 1852, the church survived the great Kangra earthquake of 1905.
Since you could feel tired after the night journey, I would recommend visiting the nearby places in Dharamshala where you can reach by hiring a cab.
Hotels in Dharamshala : Hotel Dhualadhar is a Himachal Tourism Hotel | Hyatt Regency Dharamshala Resort
DAY 2 || Dharmshala Triund Trek
Reserve your Day 2 for the Triund Trek and set the course as early as possible. Triund trek is famous for its spiritual history and ease of access. Just a three hours trek to reach the summit elevation of 2850m.
There are two ways to reach Triund, the easy one is via Dharmakot-Gallu Mandir. This option has a mix of gradual & steep climbs.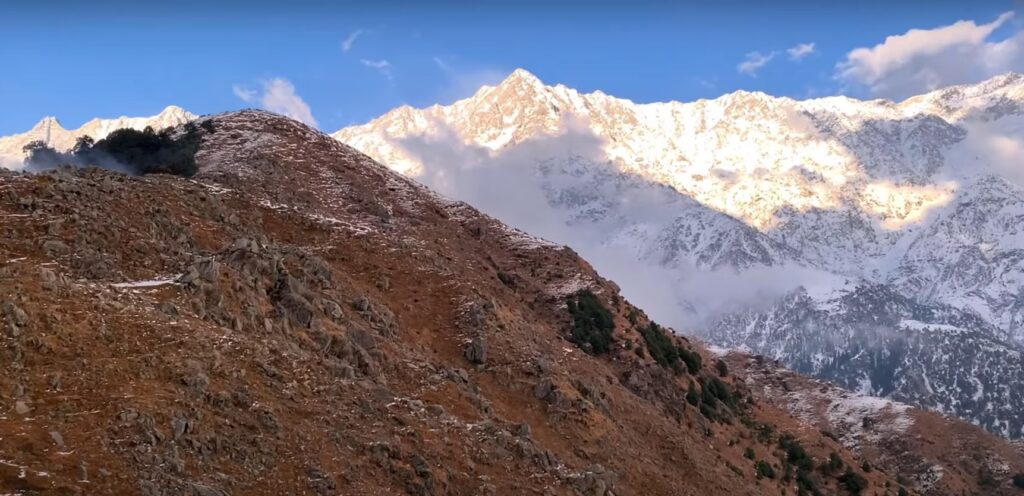 To make the trekking experience unforgettable the trekkers set up camps in tents on the hilltop overnight. The view from Triund is magnificent.
My recommendation is to hire a professional tour guide. The main season for the trek is April-May Months of the year. During the peak this season, 2000-2500 tourists on average venture out for Triund Trek. Pre-pack your food items because you may not find the stuff of your choice on the rocky path leading to Triund Trek.
The last 1 Km of the trek is tough; approximately twenty turns & has a steep climb.
Things to do in Triund Dharamshala: Trekkers can go further to Lahesh Cave & Indrahar Pass. If you plan to do so, chalk out the plan before you start from your hotel room. This needs lots of planning & preparation.
Triund has a Department of Forest Guest House which has three rooms for letting out. Bookings need to be done prior to your planned stay. Online bookings are available at www.himachalecotourism.org.
Availability of water is a challenge hence remain prepared for facing such difficulties. Apart from the Guest House, private rooms are also available for Rs 500/- per night per person. Basic food would be made available.
Start back on time as it is likely to take 2 hours min to each back to Gallu Temple.
DAY 3 || Dharmshala To Bir Billing
Assuming that you are ready for the day's adventure, on Day 3 our next waypoint is Bir Billing. What's that & how to reach Bir Billing?
Bir Billing is located in district Kangra about approximately 50 Km southeast of Dharamshala. It takes two to three hours by road to reach this destination.
Bir Billing is a paragliding site now Internationally recognized. Over the years, since the World Cup for Paragliding was organized in Bir Billing, the place has emerged as a favorite ecotourism and adventure travel destination.
Bir & Billing are two separate geographic locations, but from a paragliding point of view, both are named together as Bir is a landing site whereas Billing is the takeoff site.
Bir is located in the Jogindernagar valley of the Dhauladhar range. This place turns into boot camp for paragliders during the flying season from September- November. Billing is a little meadow,14 Km away from Bir at 8500 feet.
Things to do in Bir Billing: Paragliding | Trekking options- Bheem Pathar Trek, Rajgundha Village Trek, Hanuman Garh Trek | Thathi Village Trek | Enjoying Cafes |
DAY 4 || Bir Billing To Manali
After enjoying your breakfast you will head towards Manali passing through Mandi Town, Pandoh Dam, Hanogi Mata, and the mountain gorges along the river Beas.
Manali is a main tourist destination in Kullu Valley having classy hotels, restaurants & cafes for the likes of tourists. Manali is more familiar among domestic & international tourists who love mountains and valleys than Kullu. At an elevation of 2050 m in the Pir Panjal Range of the Western Himalayas, Manali allows the glacial torrent of the Beas River to add to the beauty of the town.
Manali has Geodesic Domes, hanging restaurants, hot balloon rides, paragliding adventures, Vashishtha sulfur water bathing pools, and river rafting to name some of the things to do in Manali.
HOTELS TO STAY IN MANALI
GOLDEN TULIP – BOOK HERE ON AGODA
MANU ALLYA SPA RESORT – BOOK HERE ON AGODA .This one is my favorite if you are a family or a sizeable group.
ZOSTEL MANALI – BOOK HERE ON AGODA – LOW BUDGET /FOR SOLO TRAVELLERS & FRIENDS
Check-in at the Hotel & if you find some time take a stroll along Mall Road. I am sure you will enjoy it!
DAY 5 || Manali Sight Seeing
Hire a cab on a full-day basis to take you to Solang Valley, commonly referred to as "Snow Valley." This valley is famous for its beauty and is flooded with a variety of winter adventure sports. Do try your
hand at adventure sports like snowboarding, paragliding, and zorbing in this captivating snow valley.
Further, Rohtang Pass & Attal Tunnel are the two attractions that you should not miss. Reaching Rohtang requires a permit which normally the cab drivers manage. The charges for the same could be more than your expectation.
There could be a situation in which the movement towards Rohtang is stopped due to snowfall. Not to worry, ask your driver to take you to Attal Tunnel. You will be surprised to see the natural beauty of Lahaul & Spiti valley on the other end of the tunnel.
On arriving back in Manali you must visit the local tourist attractions if time permits.
DAY 6 || Manali – Delhi
Pack your stuff and get ready for checkout early morning.