This article is about airports in Himachal Pradesh. Himachal Pradesh has been the dream destination of tourists from all over the world. For a long time, Himachal Pradesh had only one airport at Bhunter ( Kullu-Manali Airport), until the Shimla Airport was built and operated. Shimla airport in Himachal still has minimal flights, mostly Indian Airlines.
The flights were heavy on the pocket and mostly the flight used to be from Delhi via Chandigarh. Therefore, very few would opt for flights and would always be ready to take the pains of traveling by road. Presently, Himachal Pradesh has three domestic airports –
Kullu Manali Airport
Shimla Airport
Kangra Airport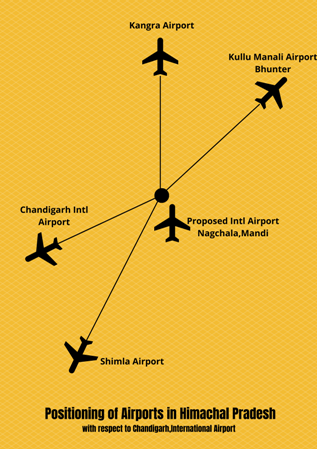 Kullu-Manali Airport At Bhunter –
Kullu–Manali Airport (IATA Airport Code: KUU) is situated at Bhunter closer to Kullu –Manali. It's a domestic airport built on the banks of the river Beas.
Those who wish to visit Kullu-Manali, Lahaul Spiti valley often use this airport. It saves ample time. Kasol, Manikarna, Malana, Kullu-Manali, Rohtang Pass, and Lahaul Spiti are the places nearest to this airport from the traveler's point of view.
Given below is the table listing distance for important places from Bhunter Airport-
| | |
| --- | --- |
| Kullu | 9.3Km(18 Min) |
| Kasol | 29.9Km(58 Min) |
| Manali | 50km(1h 27 Min ) |
| Rohtang Pass | 100Km(3h 29 Min) |
| Lahaul | 166Km(5h) |
Shimla Airport
Shimla Airport (IATA Airport Code: SLV) is located in Jubbarhatti, 22 kilometers from Shimla. This again is a domestic airport. Shimla, Kufri, Mashobra, Chail, Naldehra andTattapani are the places near this airport in Himachal Pradesh.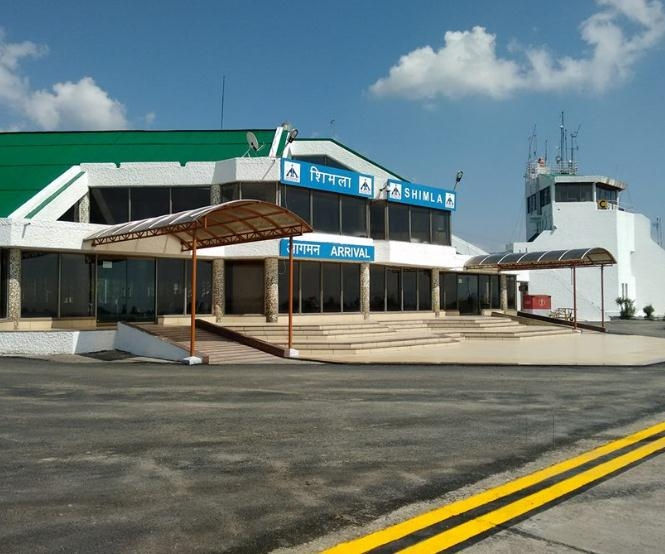 Distance for important places from Shimla Airport-
| | |
| --- | --- |
| Shimla | 22Km(46 Min) |
| Mashobra | 34Km(1h 10Min) |
| Kurfi | 38Km(1h 20 Min) |
| Naldehra | 47Km(1h 33 Min) |
| Chail | 62Km(2h) |
| Tattapani | 78Km(2h 30Min) |
| Hatu Peak | 90Km(3h) |
Kangra Airport
The Kangra Airport, (IATA Airport Code: DHM) is located in Gaggal near Kangra, 14 km from Dharmshala and 8 kilometers from Kangra.
The Kangra airport receives at least four flights a day from Alliance Air and Spice Jet.
The Airport has expansion plans in the offing. In a fresh draft plan for the expansion of Kangra Airport, Gaggal, the Airport Authority of India (AAI) has proposed to increase the runway length to 3,010m.
After the expansion, bigger planes such as Airbus 320, which will have the capacity to seat 180, can land at this airport. At present, the airlines operate ATR-72 aircraft to Gaggal, which has a capacity of 75 to 80 seats.
However, the passenger number is kept around 50-55, due to the short runway.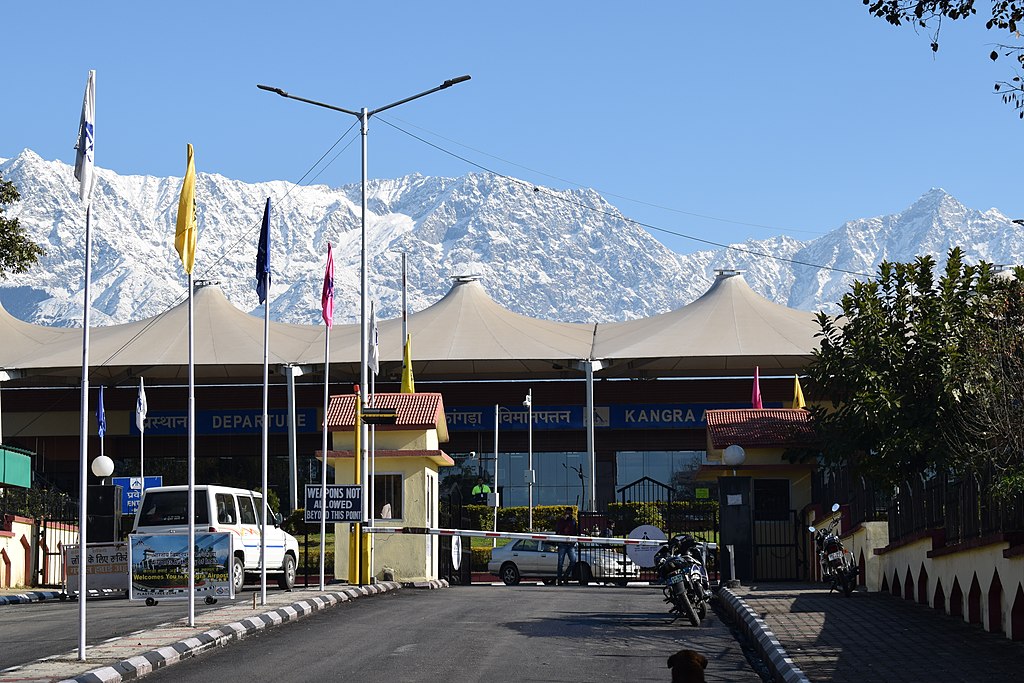 Kangra Airport has also gained importance because of the Himachal Pradesh Cricket Association Stadium(HPCA) situated in Dharamshala which in 2015 was announced as one of the eight cities to host matches during the 2016 ICC World Twenty20.
The stadium also hosts IPL matches. The stadium has a magnificent backdrop of the Dhauladhar Mountains range.
Distance for important places from Kangra Airport-
| | |
| --- | --- |
| Kangra Fort | 12Km(25 Min) |
| Dharamshala | 14Km(26Min) |
| Palampur | 38Km(1h ) |
| Jawala Ji Temple | 44Km(1h) |
Conclusion
The three airports in Himachal Pradesh cover the places popular as tourist destinations. The point here is how many tourists are opting for this mode of travel to Himachal Pradesh to enjoy their vacations.
The answer is- very few!!
The reason is the High Tariff rate.
In my opinion, it's exciting to go with this option because you save a lot of time and is quite adventurous. However, on the other hand, traveling by road makes your trip longer, and those who are not used to traveling on hills find it difficult to keep their endurance limit at the same level while battling mountain sickness.
In addition to these airports, one more Airport at Nagchala, Mandi has been proposed recently. This Airport has been promoted as an International airport and is considered of prime importance from the Defense point of view as well. This airport will be able to handle large aircraft.
Among the existing ones, Kangra Airport has the possibility of expansion whereas Shimla Airport has no scope.
Only when large aircraft can land at these airports and more tourists are encouraged to fly by air to Himachal Pradesh the tariffs would go economical.