Table of Contents
Preface
MakeMyTrip is a well-known online travel company that provides all travel-related services to customers. Founded in India in 2000, MakeMyTrip has grown to become one of the leading travel platforms in the country.
The company offers services such as flight bookings, hotel reservations, holiday packages, and car rentals, catering to both domestic and international travel needs.
MakeMyTrip's user-friendly website and mobile app allow customers to search and compare various travel options, making it easier for them to find the best deals and make informed decisions.
The platform offers a seamless booking experience, with multiple payment options and secure transactions.
With a vast inventory of flights and accommodations, MakeMyTrip offers travelers the flexibility to choose from a wide range of options to suit their preferences and budgets.
The company also provides customer support through its helpline and online chat, ensuring that users receive assistance whenever needed.
MakeMyTrip has expanded its operations beyond India and now serves customers in several countries around the world. It has established partnerships with numerous airlines, hotels, and other travel providers, enabling it to offer competitive prices and exclusive deals to its customers.
Whether someone is planning a business trip, a family vacation, or a solo adventure, MakeMyTrip provides a comprehensive platform for all their travel needs.
With its extensive network and user-centric approach, MakeMyTrip continues to make travel planning and booking convenient and hassle-free for millions of travelers worldwide.
Money Saver Offers
MakeMyTrip regularly publishes enticing offers and deals to attract customers and enhance their travel experience.
These offers are designed to provide customers with cost-effective options and added value when booking flights, hotels, holiday packages, and other travel-related services.
This article is about the offers on hotels in India. If you are planning to travel and meet the given conditions, you could save up to 15%, which is a sizeable discount.
Discounts Offer for Kotak Bank Credit Card & Debit Card Holders-
MakeMyTrip is offering 15% off on hotels in India for Kotak Bank Credit Card and Debit Card Holders. This offer is in association with MakeMyTrip India Private Limited to the customers of Kotak Mahindra Bank Limited Credit Card & Debit Card holders.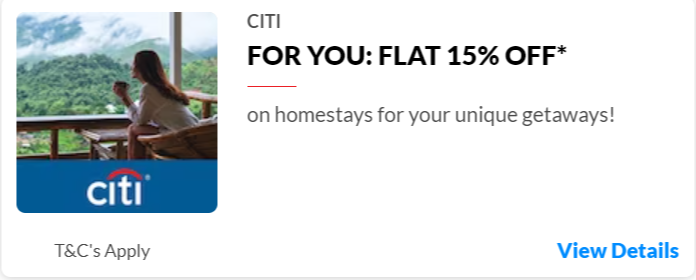 To avail of the offer, the debit card holder should use the coupon code MMTKOTAKDC while making hotel bookings from MakeMyTrip.
In this case, you will be given a 15 % instant discount (up to INR 2500), min ATV-INR 3000.
Validity
Credit Cards-
The offer will remain valid every Sunday from 23rd April to 16th July 2023.
Debit Cards-
Every Sunday from 2nd April to 30 Sept 2023 for debit card holders.
The offer is valid on payment through Kotak Bank Credit Card and Debit Card only, and the booking is made on the MakeMyTrip website, mobile site, Android, and iOS app.
The instant discount offer is valid only when one booking per card per category per calendar month is made.
The offer is applicable only on select hotels and also will not be applicable if booked using the pay-at-hotel or Book Now Pay Later option.
Conditions In the Case Of Cancellations
Now, here is the catch. The conditions for cancellation are harsh. You can read more about the conditions
Discounts Offer for Citi Bank Credit Card & Debit Card Holders-
This offer of flat 15% off(up to INR 10,000) is on homestays/Villas & Apartments of the domestic category.
The offer is applicable only on select domestic homestays when bookings are made on the MakeMyTrip website.
Coupon Code: CITIHOMESTAYS
Category: Homestays/Villas & Apartments
Validity
This offer will be valid every Tuesday from 4th Jul to 26th Sept 2023(both days included). The offer is valid for both credit card and debit card holders.
For more information, please click on the link below-
Or you can talk to the customer care representative of MakeMyTrip.
Disclaimer: The article provides information about MakeMyTrip, its services, and the current offers on hotels and homestays in India. While we strive to ensure the accuracy and reliability of the information provided, it is subject to change without prior notice. The mentioned discounts and offers are valid as per the specified dates and conditions mentioned. However, we recommend visiting the official MakeMyTrip website or contacting their customer care representatives for the most up-to-date and detailed information regarding the offers, terms, and conditions. We are not responsible for any discrepancies, errors, or changes made by MakeMyTrip or any third-party entities involved. It is advisable to carefully review the terms and conditions, cancellation policies, and any associated fees or charges before making any bookings. Users are solely responsible for verifying the authenticity and suitability of the offers and making informed decisions based on their individual preferences and requirements.
FAQs
What services does MakeMyTrip offer?
MakeMyTrip offers flight bookings, hotel reservations, holiday packages, and car rentals for both domestic and international travel.
How can I access MakeMyTrip's services?
You can access MakeMyTrip's services through their user-friendly website and mobile app.
Can I save money on hotels through MakeMyTrip?
Yes, MakeMyTrip offers discounts on hotels in India. Offers in association with the banks for their Credit Card and Debit Card holders are generally available where you can save up to 15% on hotel bookings.