Himachal Pradesh has a wide range of uniqueness in traditional fermented food made of cereal, pulses, and milk. Most of these items are cooked by boiling, smoking, roasting, and frying. Himachali Dham is the food served during weddings or other functions.
The traditional fermented foods in Himachal are largely probiotic, such as seera, bhaturu, jhol, chaang, etc.
Within the state itself, one can find local variation due to the pattern of food production and the altitude where the people live. For instance, in the region of Lahaul Spiti and Kinnaur people consume products having millets, barley, and buckwheat as the main substrate, while in lower areas of the state i.e Mandi, Kangra, Hamirpur, Bilaspur people prefer rotis made of wheat or maize flour and rice.
Babroo and Bhaturu are fermented products(Rotis) made up of wheat flour. I still remember the ladies sharing Malera (traditional inoculum) which used to be added to the dough followed by a considerable length of resting period.
If you tear Bhaturu apart, it will have ticker & thinner parts. As a kid, we always loved to tear them apart and preferred eating the thinner part because it used to be crispy. My Grandfather always admonished us to do this kind of act and projected it as inauspicious.
Dham is a local term for the lunch/traditional feast prepared in Himachali Style and served during ceremonies. Enjoying Himachali Dham is a good opportunity to get familiarized with the delicacies of the state.
Himachali Dham as an entire meal is Satvik. Another unique aspect of Dham is that usually no vegetables are used in any of the dishes. It is largely made from lentils and dairy products.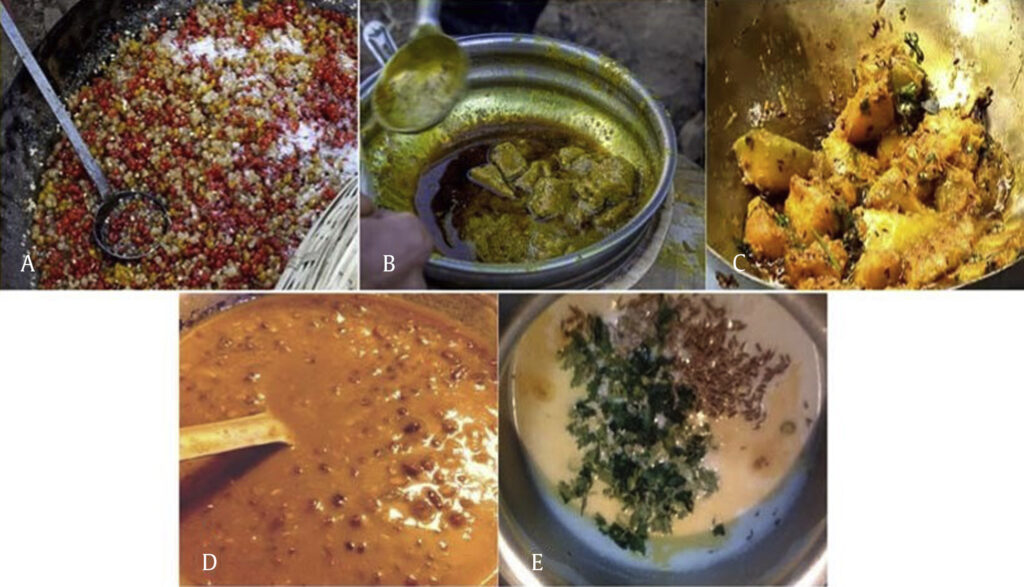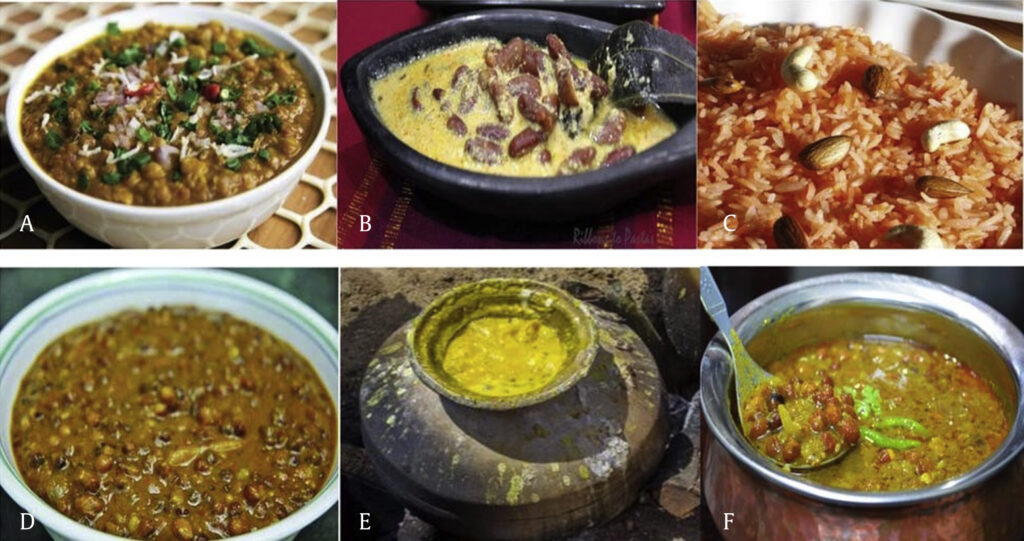 Let's have a look at the composition of Himachali Dhams in various districts of Himachal Pradesh-
Lahaul Spiti –
Dham in Lahaul Spiti includes Channa Dal, Rajmah, Chole, Gobhi Aloo Sabzi, and Mutton.
Kullu-
Kulavi Dham includes Maash Dal, Channa Dal, Kadi Pakoda, Khatta, Rajmah, Chole Madra, and Meethe Bhaat.
Kinnaur-
Kinnaui Dham serves Puri, Halwa,Sabzi, Mutton,Liquor
Shimla-
Dham in Shimla serves Maah Dal, Channa Dal, Chole Madra, Jimikand Madra, Paneer, Khatta, Boondi Ka Meetha
Sirmour-
Sirmouri Dham has Maah Dal,Pude,Jalebi,Halwa or Shakkar,Patande,Ainkulu nad Sidu.
Solan –
Dham in Solan includes Boondi Ka Meetha, Channa Daal, Rajmah, Maah Daal,Kadi Pakora
Bilaspur-
Bilaspuri Dhma includes Boondi Ka Meetha,Urad Daal,Tur Daal,Sepu Badi,Khatta Kadu,Kadi Pakora
Mandi-
Boondi Ka Meetha, Sepu Badi, Maash Dal, Kadu Ka Khatta, and Jhol are included in Mandyali Dham,
Mandyali Dham has an addition of Sepu Badi which is prepared from Maash(black lentil) and Channa Dal(Bengal Gram) and is deep-fried in cubes cut. Spinach is also added to give Sepu Badia a greenish texture.
Dhule Maah ( split black lentil) cooked in desi ghee is specific to Mandyali Dham. In the end, Jhol is served which is an astringent prepared from curd and water. It contains buttermilk and is a rich source of vitamin B12, calcium, riboflavin, and probiotics. It strengthens the digestive system and the immunity of the body.
Una-
Dham in Una has Channa Dal,Rajmah,Maah Daal,Palda,Boondi Ka Meetha
Hamirpur-
Hamirpuri Dham has Massh Daal,Channa Dal,Kadi Pakora,Khatta,Sepu Badi,Meethe Bhaat.
Kangra-
Kanngri Dham is also popular and includes Chole Madra, Khatta, Maash Dal, Meethe Bhaat
Chamba-
The typical Chambyali Dham feast which includes Rajmah Madra, Khatta, Maash Daal, Kadhi, and Meethe Bhaat starts at 12 noon and continues till 4pm in the evening.
The gravy in Chambyali Dham is made by cooking khoya and dahi in ghee until the consistency is reduced to a greater extent.
" Maash" daal is prepared by mixing three types of Daals- moong, urad and masoor. Dal is prepared by dhuni technique where the mustard oil is poured over a piece of burning coal and is placed in dal and covered for some time to give a smoky flavor.  
Chambyali Dham ends with meetha bhaat(sweetened rice) or mithde (made of boondi or bread crumbs). Chambyali Dham is famous for Rajmah Madra.
Where Do We Get To Eat Himachali Dham In Shimla?
The State Tourism Department of Himachal Pradesh provides Himachali Cuisine almost in all department-run restaurants. In Shimla, you can enjoy Himachali Dham at Himachali Rasoi, Ashiayana Restaurant which is a Himachal Tourism Restaurant,
Manali also has some restaurants serving this type of special cuisine. There are eateries en route too where one can enjoy the taste of ethnic Food & Beverages (Dham) of Himachal Pradesh.
Reference-
Himachali Dham: Food, culture, and heritage
By Monica Tanwar,Beenu Tanwar,Rattan S Tanwar,Vikas Kumar,Ankit Goyal
https://www.sciencedirect.com/science/article/pii/S2352618117301476