This is in continuation to my earlier article "Finding The Right Place To Stay in Shimla, Himachal Pradesh".
Normally tourists find a place to stay away from Mall Road, and then make a special visit to this iconic Road which you can not afford to miss. Yes, in order to reduce your budget for a stay, this is a good option and I am sure 80-90% of the tourists follow this.
Here goes the list of recommended hotels in Shimla, on Mall Road having good accessibility from multilevel parking on Cart Road and further Mall Road.
-HOTEL 1-
Hotel Combermere
This hotel in Shimla has got the best location in terms of accessibility to the property and to the Heart of the City- Mall Road & Ridge. In a recent development, Shimla had its first multilevel parking space near the HP Tourism Lift, and both these facilities ( Lift & parking) are close to Hotel Combermere.
I have been recommending this Hotel for a reason that it is damn easy to get to the Heart of the City(Mall Road & Ridge) from this Hotel. The Hotel boasts valet service and car parking.
You are only required to get inside the hotel lift having climbed a few stairs so as to reach your room.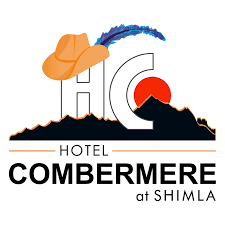 The top floor of the Hotel where you have "CAFÉ & LOUNGE -SOL", a terrace restaurant, levels up with Mall Road and generally marks the beginning of your walk across the iconic Mall Road.
When you are standing on Mall Road, you will be able to spot the Christ Church which in fact is the Ridge Level.
You will come across age-old Bakeries, which generally are found in every Hill Station for the reasons unknown – at least I don't know !!
There are thrift shops on the valley side and further you go, you hit the entry point for Lower Bazaar on to the left. Right you choose, you stay on Mall Road and head towards Scandal Point where the Lala Lajpat Rai statue stands installed for decades.
Along the Mall Road, there are Restaurants like Shere-e-Punjab, Nalini, Jashan, 45-Central, Ashiyana Restaurant, Indian Coffee House and Devicos to name the prominent ones.
Dominos is also available near Scandal Point for the Pizza Lovers.
Accommodation & Pricing –
Hotel Combermere provides Business center facilities including Secretarial Services. I have seen the Company Recruitment processes taking place in their Business Centers and Banks holding their important Business Meetings. All because of its being located so beautifully and services up to the mark.
Hereunder are the types of rooms-
Luxury Room (Price Range From Rs 8200- 12600) for ( EP/CP/MAP/AP)
Combermere Luxury Rooms (Price Range From Rs 9000-13400) for ( EP/CP/MAP/AP)
Luxury Suite ( Price Range From Rs 10500-14900) for ( EP/CP/MAP/AP)
Combermere Suite( Price Range From Rs 11000 – 15400) for ( EP/CP/MAP/AP)
Executive Suite ( Price Range From Rs 14000-22000) for ( EP/CP/MAP/AP)
Note: The pricing varies with the season/off-season
-HOTEL 2-
Hotel Willow Banks
If you go by reviews of this Hotel in Shimla, most of them have talked about the location of the Hotel. Rightly so, the Hotel Willow Banks is right on Mall Road, close to Tourism Lift towards the right side.
The Hotel is built on a heritage estate that was owned by James Craddock Jr, who is known as the " Architect & Builder of Shimla".
The Hotel has two eateries –Café Shimla Times and Eighteen 71 Cookhouse & Bar. The Café Shimla Times has an open terrace overlooking the spread of Shimla City, and beautiful sunset can be enjoyed if you are here at the right time.
As far as I know, this is the only place where you can enjoy regular Live Music on Saturdays & Sundays evenings.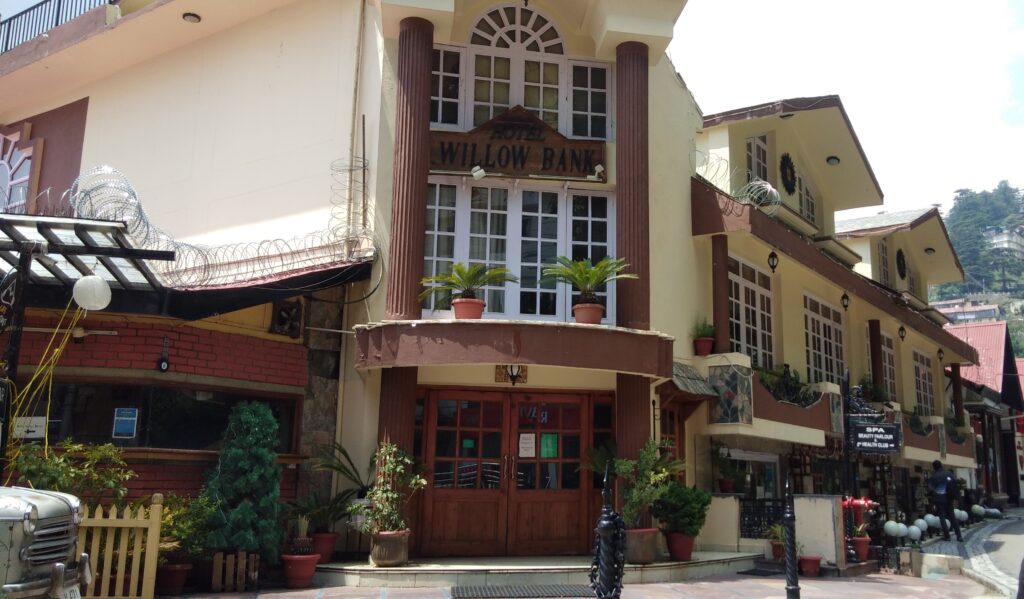 Those who have stayed here have posted good opinions about the food being served in the Hotel.
Just at the front, while entering the reception there is a live kitchen and one can spot the wood-fired oven and Chefs attired in white with their Chef Caps which gives a good feel and creates an indelible impression.
There is a Spa available for complete rejuvenation that one could expect while in the Himalayas.
Accomodation & pricing
The Types of rooms available are –
Super Deluxe Rooms with Valley view and standing balcony ( EP Plan Only; Rs 7299)
Interconnected Family Rooms( EP Plan Only; Rs 12980/-)
Premium Rooms with Kitchenette ( EP Plan Only; Rs 7499)
Premium Rooms ( EP Plan only; Rs 7399)
Note: The pricing varies with the season/off-season
-HOTEL 3-
Hotel Oberoi Clarkes
This Hotel belongs to the renowned Oberoi Group Of Hotels. The story, of Mr Rai Bahadur Mohan Singh Oberoi, that how he joined this very Hotel as front Desk Clerk and went on to become the Owner of the Hotel which belonged to Mr. Ernet Clarke epitomizes that honesty pays and it pays in a big way.
It is said that he could not even pay the total sum asked to take the ownership. The money was paid in installments to get the ownership of the Hotel.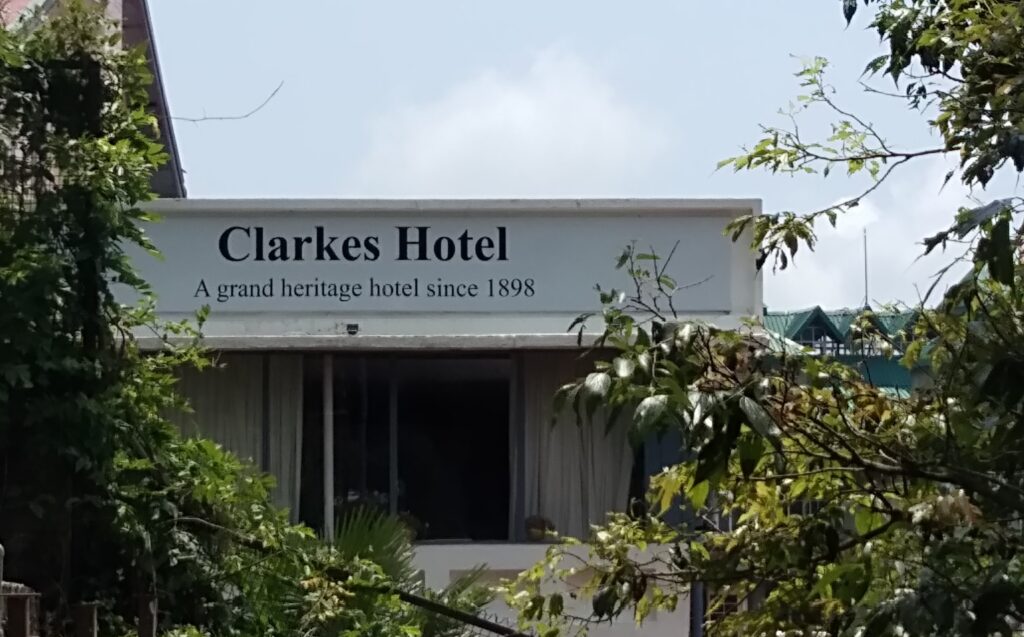 It's a Landmark and Heritage Hotel which is easily accessible from Mall Road and High Court link road. Though the vehicular movement from Mall Road is restricted, entry of the vehicles is always from the High Courtside. Not much land space available around, but the hotel has its own parking space.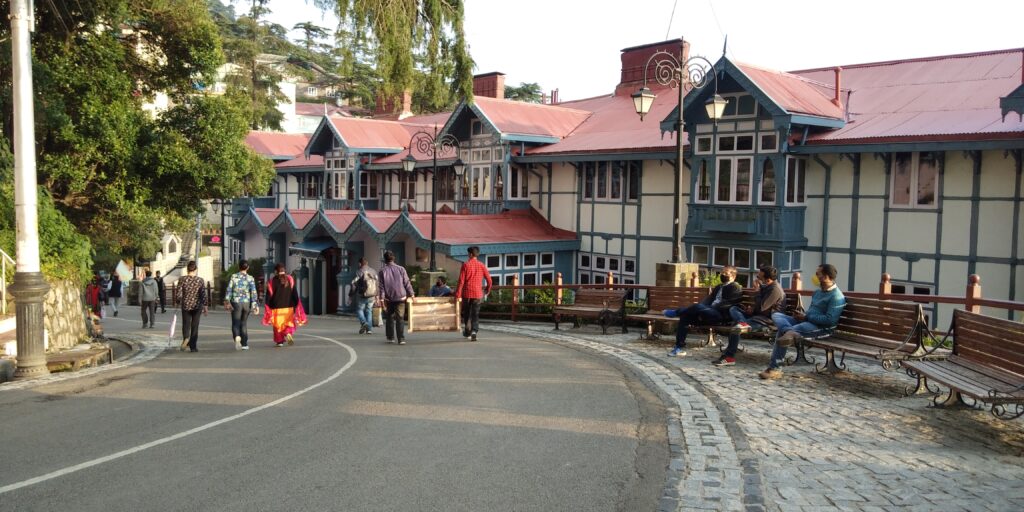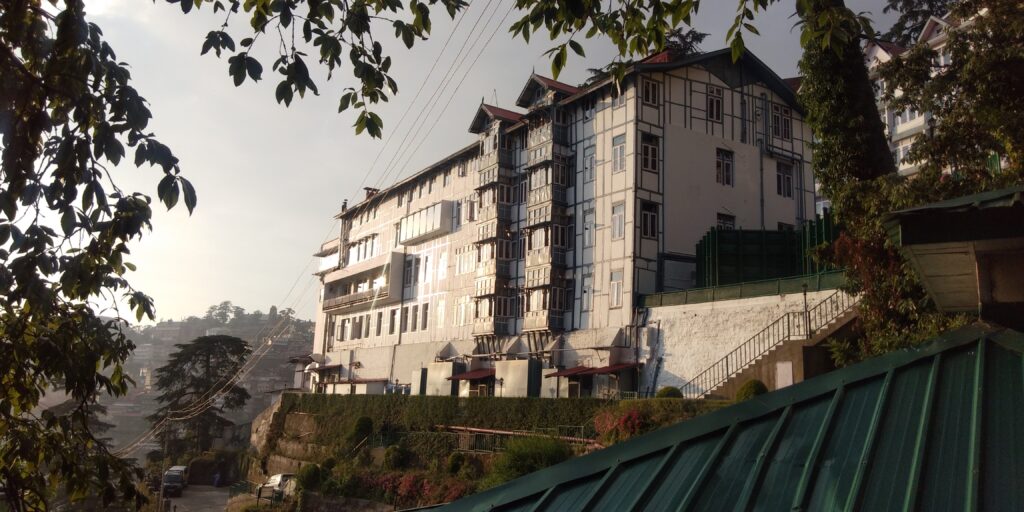 The Hotel maintains the colonial standards to date and the exterior of the Hotel in Gray & White texture looks magnificent. It is an experience to live in Oberoi Clarkes, Shimla because, in our day-to-day & ultra-busy life, there is hardly any time to treat ourselves so royally.
Accommodation & pricing
Premier Rooms ( Rs 10500/-)
Suites ( Rs 13000/-)
Superior Rooms ( Rs 9000/-)
Deluxe Rooms ( Rs 9500/-)
Note: The pricing varies with the season/off-season
-HOTEL 4-
Hotel Marina
Hotel Marina from my point of view is at the beginning of Mall Road. The hotel is located in Shimla such that nature full of Pine & Cedar trees is just close.
The smoky exterior of the Hotel blends with the surroundings and does not appear odd out there. The property has been built nicely and is neat as a new pin.
The Hotel proudly calls itself a Boutique Hotel.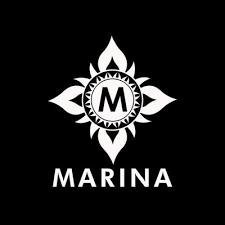 You must be thinking, what is the difference between a Luxury and Boutique Hotel? Have you ever visited a boutique for apparel & accessories? When you think of a Boutique, you assume the creation you are likely to buy is going to be exquisite and unique.
On similar lines, the term " Boutique Hotel" has been coined. So those who are bored with the usual settings of Hotels might find "Boutique Hotels" interesting.
I found, Hotel Marina matching this specification. However, much would depend upon the taste of the individuals. Definitely, you won't get disappointed. The Hotel is easily accessible and has ample parking space.
Dine & Drink –
The Hotel has three eateries –
Hill Edge Restaurant
Sixteen 69 Lounge Bar
Open Garden Restaurant
Accommodation & Pricing-
The Hotel has three types of rooms –
Deluxe Rooms ( EP 10800/-, CP 12300/-)
Superior Rooms ( EP 11800/-, CP 13300/-)
Executive room ( EP 12800/-, CP 14300/-)
Note: The pricing varies with the season/off-season
Recommendation-
The Hotel is located on the threshold of Mall Road. One should indulge in Morning Walk, LEFT you choose you follow the Mall Road and RIGHT you go, you are taking the route to Chota Shimla where there are high profile offices like Secretariat of Govt Of Himachal Pradesh, Raj Bhavan & CM Bangalow.